There are few foods I like more than peanut butter, so when I can find an excuse to use it in a savory dish, I'm all over it. 
I'm also the type to taste while I cook, and the first time I made this sauce, I knew I had to double the recipe if all three of us were going to have enough to eat -- and have there be leftovers. As you can see by the condition of the pages in the book, we've made this one a lot. It was an instant hit!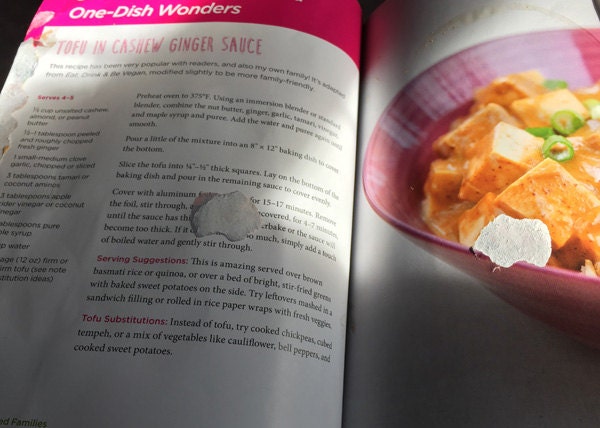 This recipe comes from Plant-Powered Families by Dreena Burton. We already keep a vegetarian house, but I want to increase the number of vegan dinners we eat. This book has many recipes I can't wait to try.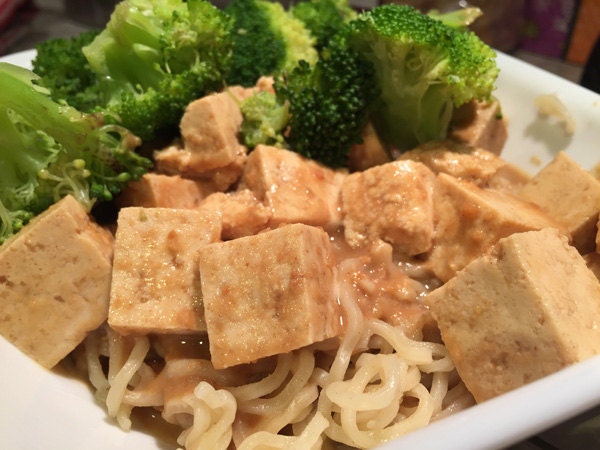 Tofu and Broccoli in Peanut Ginger Sauce
Source: Adapted from Plant-Powered Families by Dreena Burton
Serves 4-5 (I usually double it, and we have plenty for leftovers)
1/3 cup peanut butter*
1/2t ground ginger+
1-2 cloves of garlic, minced
3T soy sauce
3T apple cider vinegar
2T maple syrup
3/4c water
1 package or firm or extra firm tofu, drained and pressed
2 broccoli crowns, chopped into florets
Preheat oven to 375. Puree peanut butter, ginger, garlic, soy sauce, vinegar, and maple syrup. Add the water and puree again, until smooth. 
Pour about a quarter to a third of the sauce into a 8x12 baking dish to cover the bottom. Slice the tofu into ½-inch squares, and lay in a single layer on the bottom of the baking dish. Cover with the rest of the sauce.
Cover with foil and bake 15-17 minutes. Remove the foil, stir, and bake for another 4-7 minutes until the sauce has thickened. Don't bake for too long because the sauce will get too thick. The original recipe suggests adding a little boiling water to thin the sauce if necessary.
Meanwhile, steam or boil the broccoli, and cook your favorite rice. (We also like this served over ramen noodles.)
Layer broccoli and tofu with a good spoonful of sauce over each bowl of rice or noodles.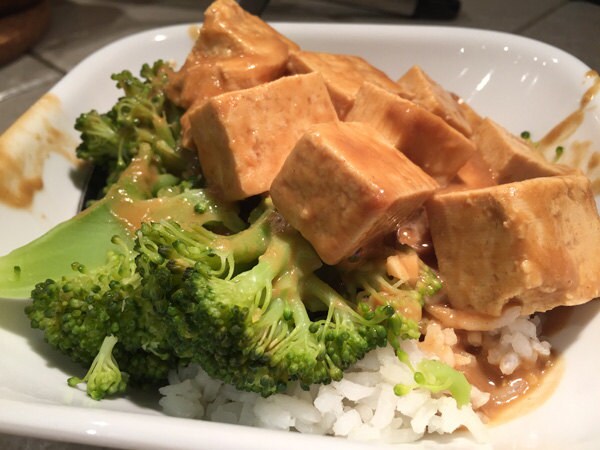 * The original recipe also suggests cashew or almond butter. I prefer chunky, but creamy works, too!
+ The original recipe calls for ½ to 1T peeled and chopped fresh ginger. I rarely have fresh ginger in the house, so I use ground instead. 
Follow me for the latest news and more! I'm on: Facebook | Twitter | Instagram | Pinterest | Tumblr. 
Join my email list for news, coupons, and more! Enter your email address and click "Subscribe" at the bottom of this page.