This is a winter craft I posted about several years ago when my son was preschool-age. The original intent was to make a snowman with a craft foam nose inside the bag that the child would then have to squish around to make the face. The squishing is a satisfying sensory activity, and putting the baggie together is a simple project kids can help with. 
But it's not winter anymore, and this age of coronavirus and #JustStayHome got me thinking about ways you could modify this for spring. Certainly, craft foam shapes inside would still be fun, but if you don't have craft foam, what else could you add to the mix? 
Here are a few ideas I came up with today:
Nothing! Just glitter (or not, if you don't have it and don't want to deal with it) and shaving cream in a bag would be fun to play with.
Plastic beads, as long as they're not sharp. Bonus points if the beads have letters on them to spell words!
Dried beans or lentils.
Smooth stones, especially the kind you can get from the craft store, if you feel like venturing out. 
What would you add? Leave more ideas in the comments. 
Here's the how-to for the original snowman project. Modify as you will for your own needs and supplies! The idea came from Mollie's Mom blog.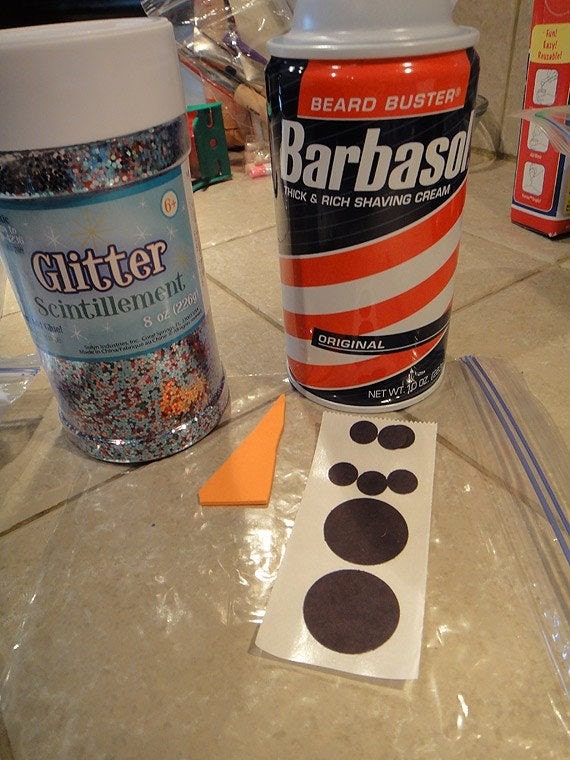 You'll need:
Can of shaving cream (the cheap stuff is OK) 
Zip-top baggie 
Black construction paper or craft foam 
Orange craft foam 
Glitter (optional) 
Cut enough "coal" pieces for each snowman's eyes and mouth or ask the kids to cut them. I used a circle punch to make my coal pieces and then ran them through a Xyron sticker maker, but you can also use sticky-back foam or glue to hold your eyes on. Cut triangle "carrots" from the craft foam, one for each snowman.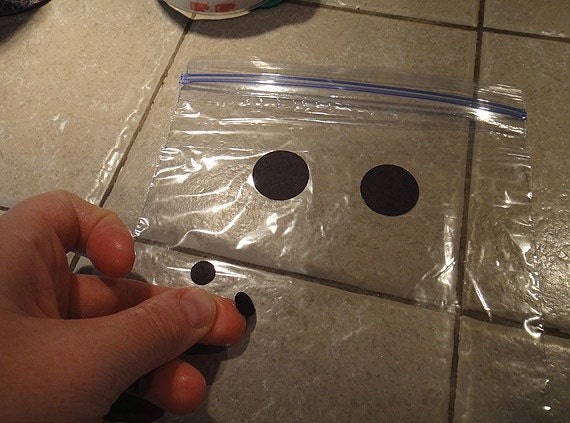 Give each kid a baggie. Attach the eyes and mouth pieces onto the front.  
Inside, put the carrot nose and some glitter, if using. Squirt in a generous dollop of shaving cream into the bag and seal, squeezing out some of the air. I taped the bags shut with packing tape.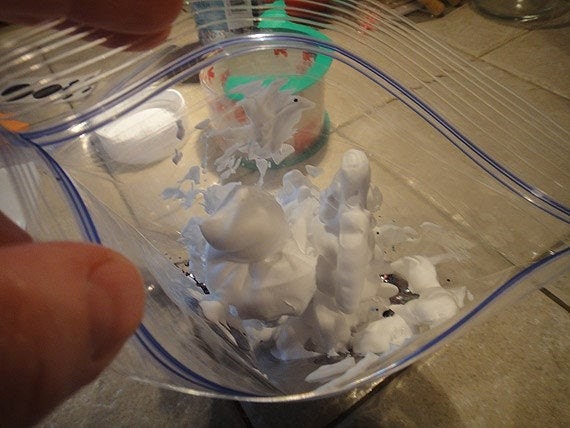 Now, get to squishing! See if the kids can line up their snowman's nose in the proper place on the snowman's face. Little kids and adults will love the way the shaving cream feels as they squish the bag. The shaving cream will break down after a while, but you can expect to get a couple of days of play out of this guy.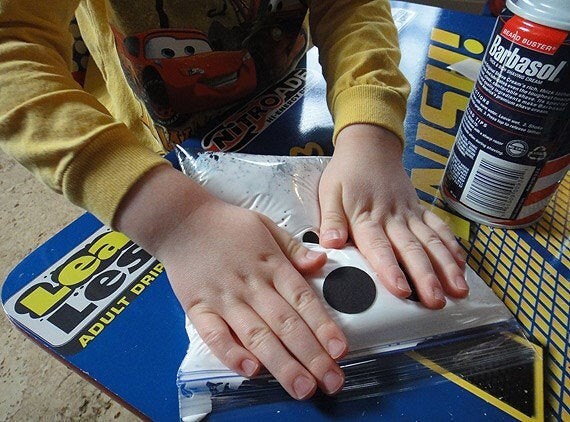 _________________________________________ 
Follow me for the latest news and more! I'm on: Facebook | Twitter | Instagram. 
Join my email list for news, coupons, and more! Enter your email address and click "Subscribe" at the bottom of this page.