Experts say it's important that we continue to connect with those we love even as we practice social distancing and shelter at home. Last week, my husband, son, and I played Uno Flip with my parents over FaceTime, and that got us thinking: What else could we play remotely?
For card games, we figured that any game where you didn't need to draw off the discard pile would work. To play Uno Flip, each side had a discard pile, and you played off the pile played on by player who went before you. Sometimes, that person was in the same room as you, but other times that person was on the other side of the screen. 
You know what? It totally worked! We had a great time and are planning a rematch with Phase 10 Dice. 
The caveat to this type of play is that both parties need to have a copy of the game you're playing. 
My son is 12, so here are some of the card and board games from our family game cabinet that we thought older kids and adults could play over video chat.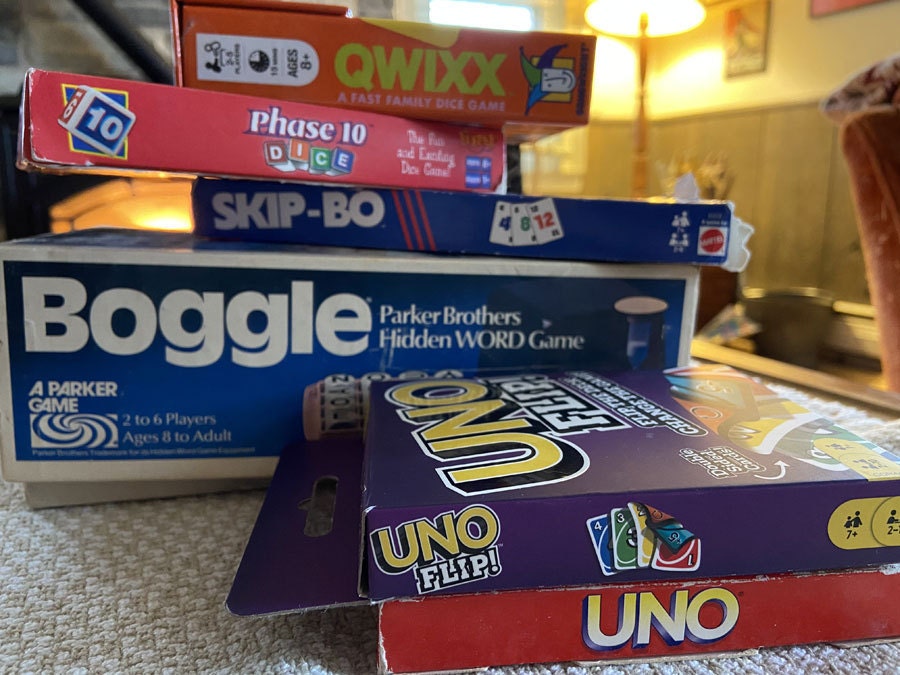 Card and Dice Games
Uno and Uno Flip don't require taking cards from the discard pile on your turn.
Quixx, a dice game my family recently discovered, uses a shared set of dice and scoresheets that could easily be recreated or printed from the Internet if one of you doesn't own the game.
During Phase 10 Dice, each player takes their turn using the set of dice, so as long as you both have the game, it would be easy to play.
Each player also takes their turn with a shared set of dice in Yahtzee, making it possible to play remotely if you both have the game.
I think you could make Skip Bo (another personal favorite) work, too. Just be aware that the center pile you're playing on may be on the screen rather than physically in front of you.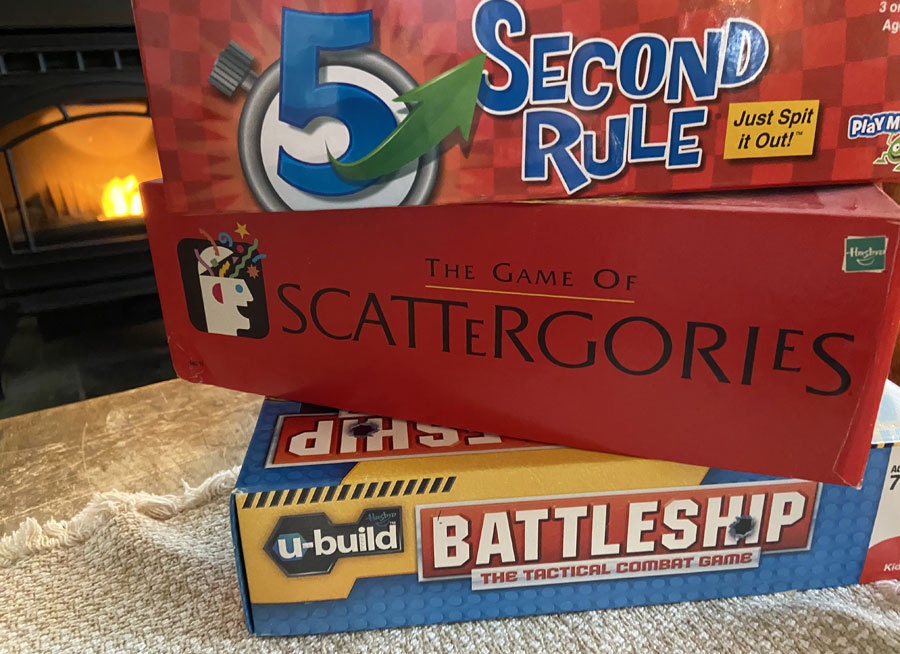 Board Games and Other Family Games
Remember Boggle? I loved this word-find game when I was a kid, and it's another game that doesn't require both parties to own it. Make sure the camera is pointing at the game in one house, and play! All each player needs are a pencil and paper.
How about Battleship? I mean, the whole purpose of this game is not being able to see the other players strategy! It's practically built for remote play.
Another game I love is Scattergories, and as long as you both have the subject lists, you could play remotely, even if one party doesn't own the game.
We have a game called 5-Second Rule where you have to name as many items in a category as you can in five seconds. As my son pointed out, it's another game that doesn't require both parties to own it. 
Games with Little or No Set Up Required
Some timeless games only require a pen and paper; some don't require anything at all! Others will need you to print cards or game sheets or look up questions. Try these the next time you video chat: 
 Bingo – make your own cards or find them online!
I Spy
20 Questions
Quiz games – use Trivial Pursuit cards or find questions online!
Charades
Pictionary
Scavenger hunt – Especially fun if you have a people in a more than two locations on your chat. A little competition never hurt anyone! My son's Scout troop did this the other day, and it was a blast. 
And don't forget the littlest kids! Try playing these with babies or toddlers:
Peek a boo
Songs with movements or hand motions like "Baby Shark"
Show and tell – little kids love to do this with their grandparents!
What games do YOU like to play over video chat? I'd love to hear more suggestions in the comments below! We all have lots of hours to fill. 
_________________________________________
Follow me for the latest news and more! I'm on: Facebook | Twitter | Instagram. 
Join my email list for news, coupons, and more! Enter your email address and click "Subscribe" at the bottom of this page.