We're in the first week of coronavirus-related school closures here in New York State, and that has me searching for things for kids to do. My son is 12 now, but I remember the days when he was younger and we were stuck at home because of snow, hurricanes, or sickness. 
I found these three activities when I was scrolling through old Peace, Baby! blog posts, and I wanted to share them because they don't require a trip to the store. If you've got a few basic items, you have what you need for these activities, two of which are great for mailing to faraway friends and family who you can't see right now.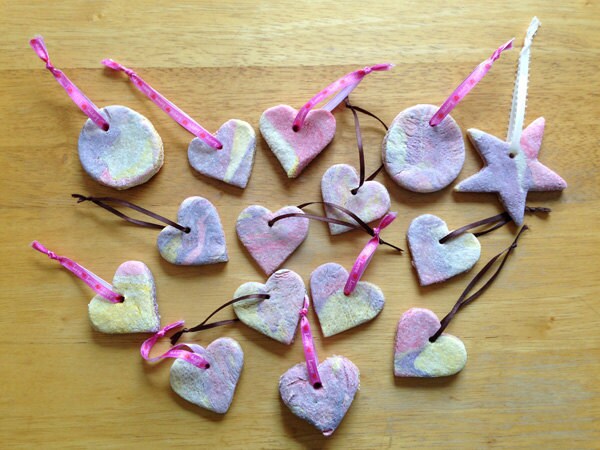 Colorful Salt Dough Hearts
Recipe: https://www.messylittlemonster.com/2014/12/how-to-make-coloured-salt-dough.html 
When we did this, I used food coloring, and the colors came out more muted than the example but still very pretty. We were able to make a ton of cut-out hearts, which were great for sending to distant family.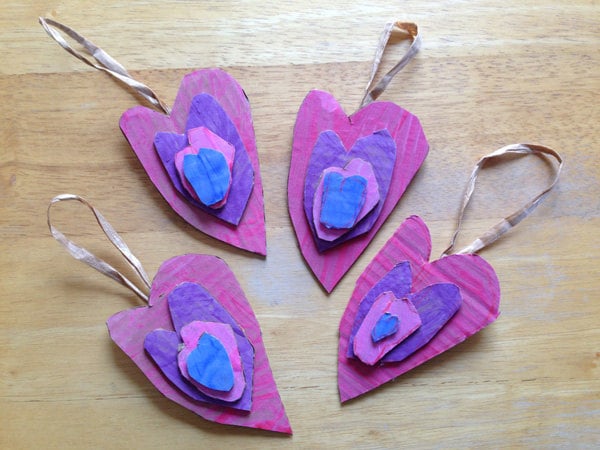 Cardboard Hearts
Via Little Bit Funky: http://www.littlebitfunky.com/2013/02/40-ideas-num-16-cardboard-art.html 
We opted for valentine colors (pink, red, purple, and blue) when we did this, but I just love the rainbow examples at Little Bit Funky. I let my son draw the hearts for each size, so the shapes were all his. A little raffia glued onto the back turned these into pretty ornaments. Unbreakable and easy to mail!
Spot the Hearts Game
Via Studio DIY: http://www.studiodiy.com/2012/02/13/diy-valentines-day-game-spot-the-hearts/ 
This scavenger hunt game is Valentine's Day-themed, but I think it's a great idea for rainy days! These days are going to be long, and a simple idea like this can be just the ticket to shaking cabin fever.
_________________________________________
Follow me for the latest news and more! I'm on: Facebook | Twitter | Instagram. 
Join my email list for news, coupons, and more! Enter your email address and click "Subscribe" at the bottom of this page.