We didn't get as much snow from the "bomb cyclone" here in the Ithaca, NY, area as those who live further east did, but that doesn't mean it's not crazy outside. The wind is howling, and the last I checked, the "feels like" temperature was 35 below. My son has a snow day today – a snow day that we've known about since 10 a.m. yesterday. That never happened when I was a kid!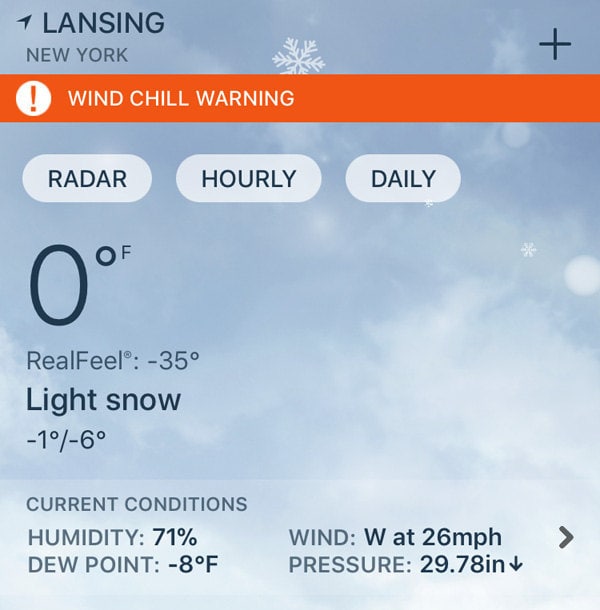 So that makes today the perfect day for something warm and hearty, and one of my favorite things to make in the winter is chili. This is a recipe from The TVP Cookbook that I have modified. It's got lots of beans and it's pretty flexible; if you've got any kinds of veggies in the house, you can throw them in!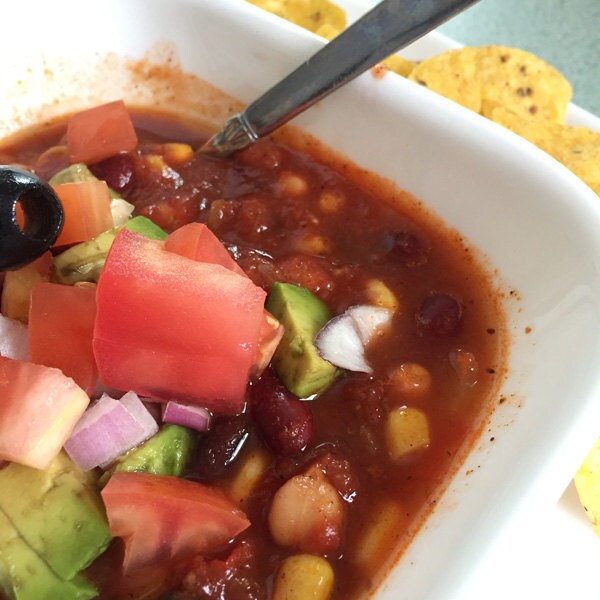 Easy Vegan Chili 
1 large onion, chopped 
1 green pepper, chopped 
2 cloves garlic, minced 
2T olive oil 
1T chili powder 
1t cumin 
2t oregano 
1/4t cayenne 
2 28-oz cans diced tomatoes 
3 cans of beans, drained (kidney, black, chickpea, etc.) 
16 oz corn (frozen, canned, or cut from the cob) 
2c veggie broth 
Heat the oil in a large Dutch oven or pot. Saute the onions, peppers, and garlic for a few minutes, and then sprinkle the spices over top and stir. (The original recipe calls for twice as much chili powder, cumin, and cayenne than I've noted above; I tone it down so my son will eat the chili. My husband often adds hot sauce to his.) 
Stir in the tomatoes, beans, and broth. Simmer for at least a half an hour. At this point, you could also put the chili in the crockpot and let it cook for a few hours on low (or a shorter time on high). Add the corn 15 minutes before you want to serve it. If I am using the crockpot, I add the corn with the rest of the canned ingredients. 
The original recipe calls for TVP (reconstituted with boiling water and ketchup) to be added to the chili. I've also used vegetarian/vegan grounds, but most of the time, we do without some sort of beef substitute. This chili is also delicious with other veggies – like zucchini, green beans, or peas – thrown in. Whatever you've got!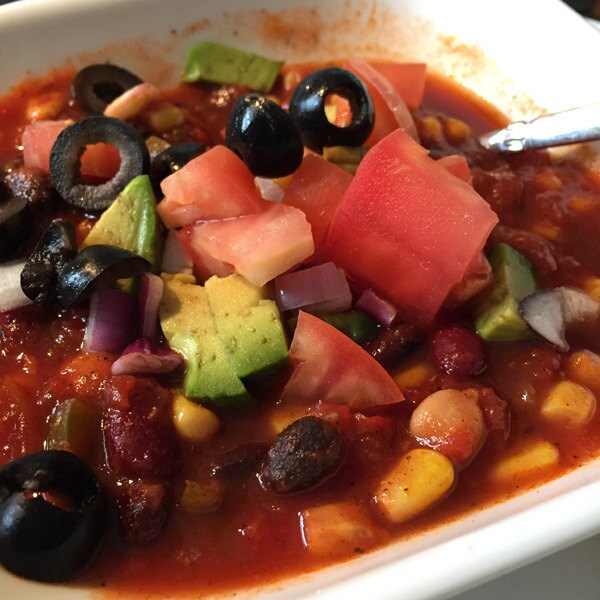 I made this for my husband's birthday earlier in the week, and I put out a bunch of toppings. It worked out well because the vegans could keep their bowls dairy free while the cheese lovers could load up on dairy. 
* Diced avocado 
* Diced tomatoes 
* Diced red onion 
* Chopped black olives 
* Sour cream 
* Shredded cheese 
* Tortilla chips 
I think chopped green onions could be good, too. Any toppings you would add? 
Follow me for the latest news and more! I'm on: Facebook | Twitter | Instagram | Pinterest | Tumblr. 
Join my email list for news, coupons, and more! Enter your email address and click "Subscribe" at the bottom of this page.