My son is 9, and he likes to build things. Usually that involves Legos, Minecraft, or Snap Circuits, but a couple of summers ago, he was inspired to come up with a salad.
Which was – and is -- huge.
Aside from tomatoes, black olives, and broccoli, my son is not a huge fan of salad. He doesn't like spinach and lettuce, and he definitely wouldn't eat a raw onion or carrot.
But after trying fresh veggies from the garden at school, he came up with this salad. It includes some of his favorite things, and it's topped off with Ranch dressing. (Of course.) Now that I am vegan, I eat it with goddess dressing. (Delicious!) We've had it with veggie burgers and other summer meals, and it is great at a cookout!
Use as much as you'd like of each vegetable. It's not an exact science.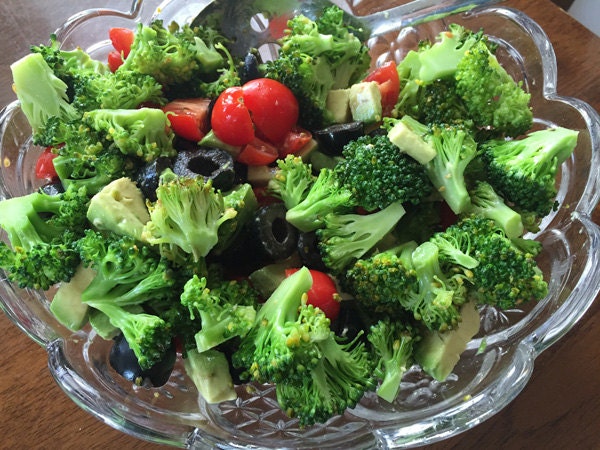 Q's Salad
Broccoli florets, lightly steamed so it's soft but still a little crunchy
Black olives, halved
Avocado, diced
Cherry or grape tomatoes, halved
Ranch salad dressing (or goddess dressing to go vegan)
Salt and pepper, to taste
Steam the broccoli and run under cold water to cool. Combine ingredients in a bowl. Drizzle dressing on each serving.
Follow me for the latest news and more! I'm on: Facebook | Twitter | Instagram | Pinterest | Tumblr.
Join my email list for news, coupons, and more! Enter your email address and click "Subscribe" at the bottom of this page.