I learned a long time ago that I can make show mornings less stressful if I plan ahead. For that reason, I compiled the "big craft show list" I wrote about a few weeks ago.
I also put together a bin of items that is just for craft shows. Known in our house as the "BRB," which is short for "big red bin," I don't have to think about what's in the bin. I just stuff it in the car and go. 
So, if you're a craft business owner like me, I share the contents of the BRB to help you put together your own craft show bin.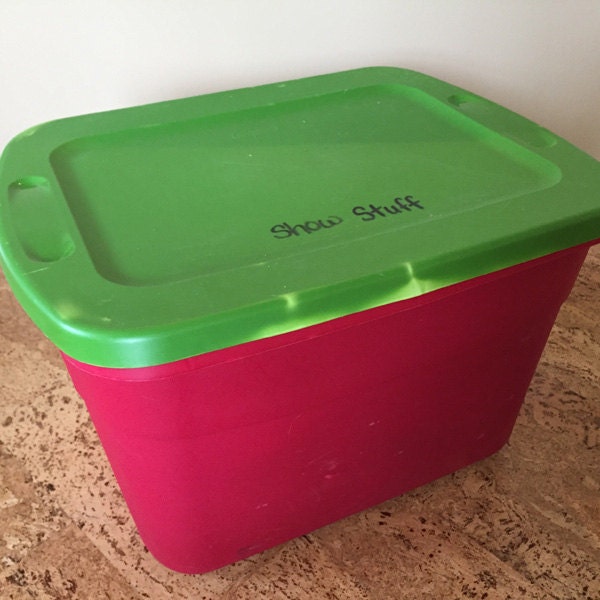 The original BRB was all red, but then that one broke down and became an outdoor cat shelter. I found this baby on sale at Christmastime. The name stuck, despite the green lid.
Here's what's inside:
First, some basics like a sign, hangers, business cards, and waterfall hooks.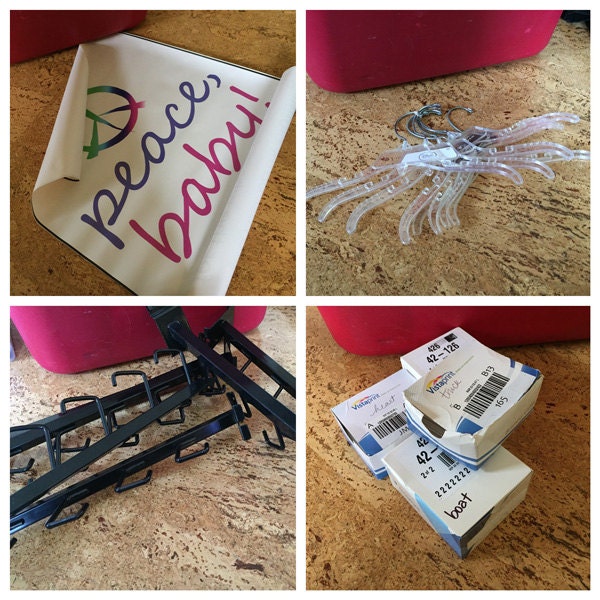 I've also got a whole shoebox of "things for attaching," such as bungees, wire ties, Velcro ties, and clothespins. I carry extra wire ties, too, because I am paranoid that I will get to a show and run out. (I use them to attach my gridwalls together. They're key to my set up.)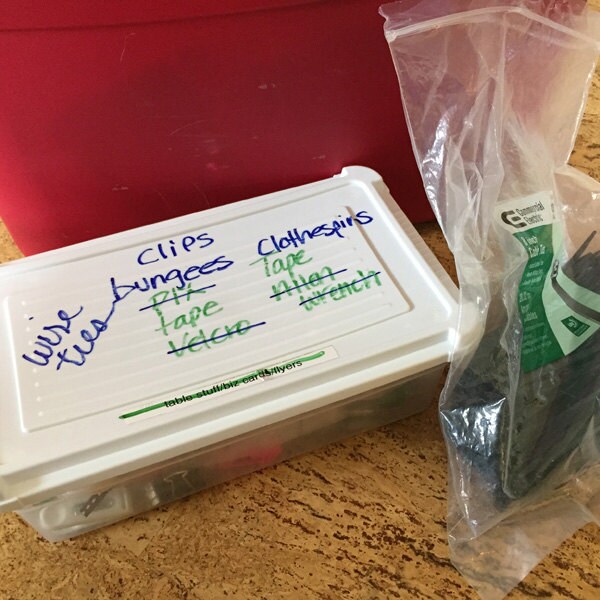 Shopping bags are important, too, and while I usually carry more than this with me, having some in my BRB means I never forget bags at home. I bring plain lunch bags and little plastic bags in case I run out of my branded bags.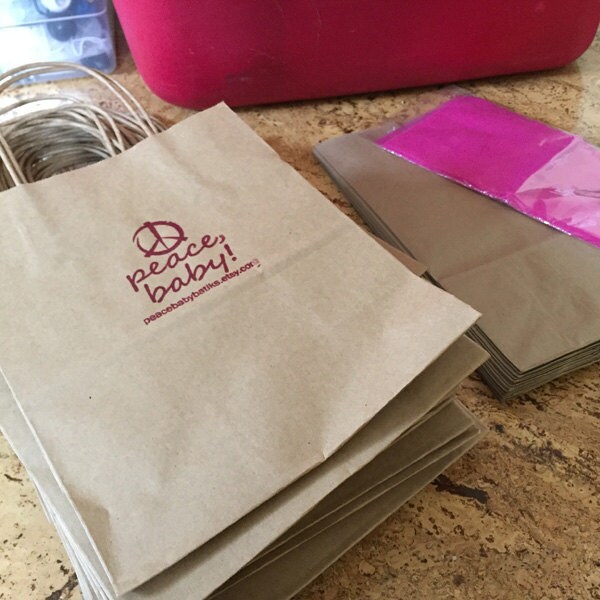 Next is a shoebox of "selling stuff" like aprons, receipt books, sales tax tables, tape, scissors, and pens. Another shoebox holds my business card trays and signs.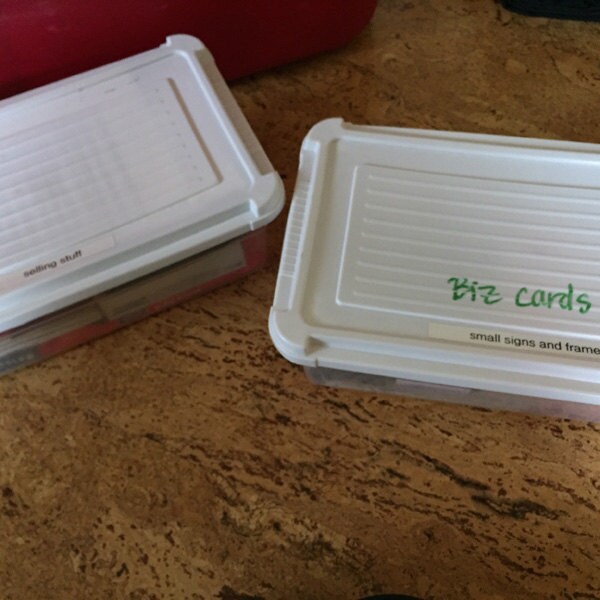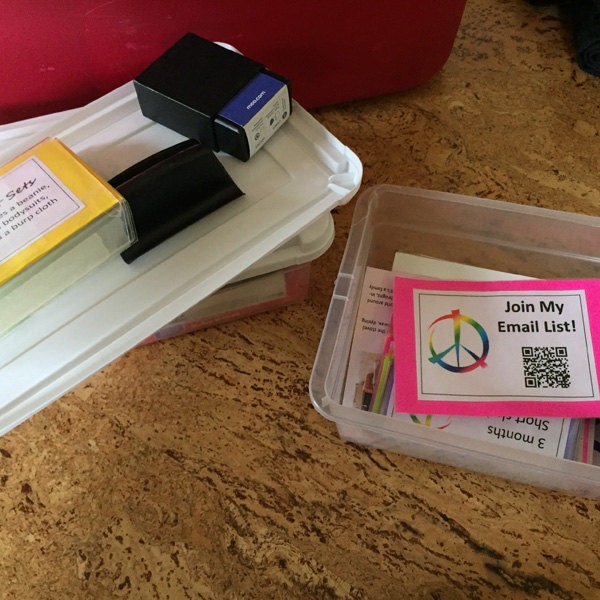 I also carry a lint brush (a textile seller's best friend), chalk for shows on asphalt, and an extension cord. I rarely have power, but if I luck into it, I want to be able to use it!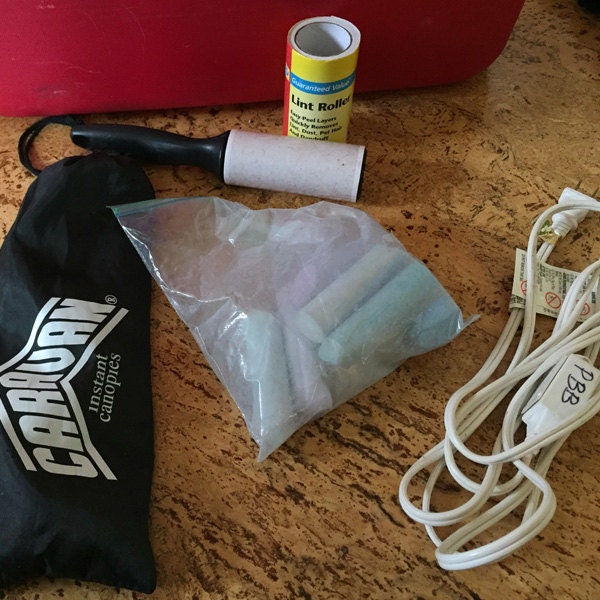 Last, there are two black tablecloths. This is a holdover from the days when I used tables in my set up. I carry them now because they are handy for covering bins if I have to stash them in a visible place – or if a neighbor needs a tablecovering.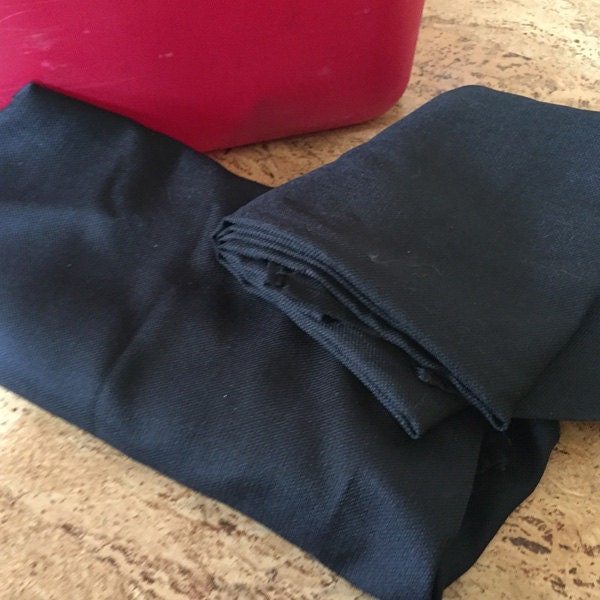 And, believe it or not, it all fits!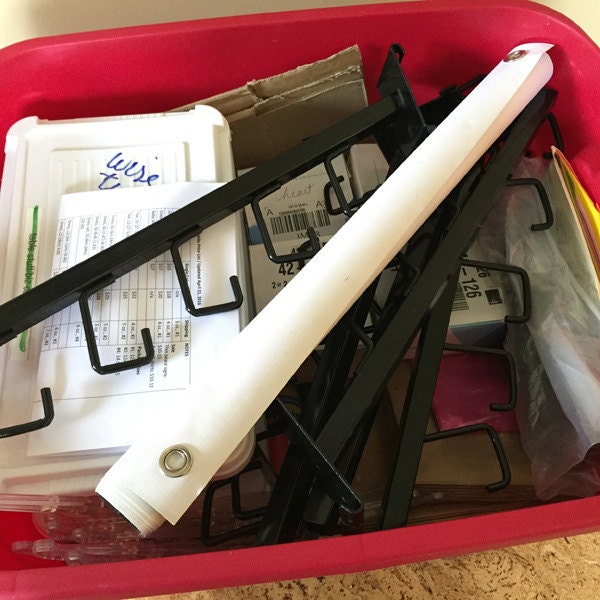 Follow me for the latest news and more! I'm on: Facebook | Twitter | Instagram | Pinterest | Tumblr.
Join my email list for news, coupons, and more! Enter your email address and click "Subscribe" at the bottom of this page.