I'll start with this: I know this is a Scottish dish and St. Patrick's Day is an Irish holiday, but I didn't know that when I started making it -- and now it's tradition! 
And I can't break with tradition now -- right?
So Scottish rumpledethumps for St. Patrick's Day it is. Besides, it's just so much fun to say!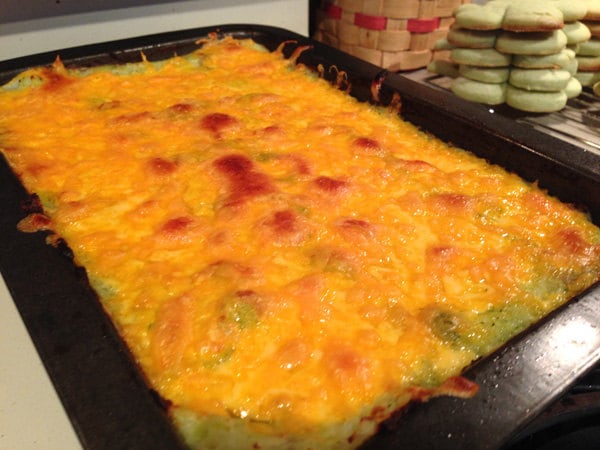 Rumpledethumps are similar to an Irish colcannon, which is a concoction of potatoes and cabbage. The Scots added butter and cheese, and bam! You have one of my favorite dishes to make all year long.
I serve this with Irish soda bread, a Quorn roast, a beverage made with Bailey's for the adults, and green Kool-Aid for the kid.
Rumpledethumps
Source: Sundays at Moosewood
This version: Food.com
5 large potatoes
2-1/2 cups chopped green cabbage
2 leeks, washed and chopped
2-1/2 cups broccoli, coarsely chopped (frozen is OK)
6 tablespoons butter
1/4 teaspoon mace
salt and pepper
1/4 cup milk
1/2 cup cheddar cheese, grated
Peel and coarsely chop the potatoes. Boil in salted water until tender, about 15 minutes.
Steam the cabbage, leeks, and broccoli.
Melt 2 T of the butter and add the mace. Combine the cabbage, leeks, and broccoli with the seasoned butter; salt and pepper to taste. 
Drain and mash the potatoes with the remaining butter and the milk. Salt and pepper to taste. Combine potatoes with other vegetables. 
Oil a 9 x 13 pan and spread the vegetable mixture in it. Sprinkle with grated cheddar. Broil for a few minutes, until the cheese is bubbly and slightly browned.
Follow me for the latest news and more! I'm on: Facebook | Twitter | Instagram | Pinterest | Tumblr.
Join my email list for news, coupons, and more! Enter your email address and click "Subscribe" at the bottom of this page.